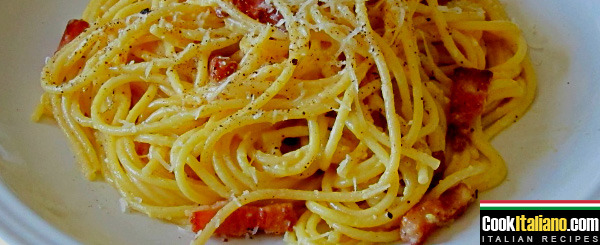 Ingredients for 4 servings:
400 gr spaghetti
80 gr lean bacon
2 yolks
30 gr butter
1 glass of fresh single cream
Extra virgin olive oil
Grated Pecorino cheese
Salt
Pepper
Ready in:
about 40 minutes
How to prepare the recipe: "Carbonara spaghetti":
Cut the bacon into strips and fry with a little butter and a little oil.

In a bowl beat the yolks, and then mix with pecorino; salt and pepper.

Melt the remaining butter in a pan on low heat. Add the strips of fried bacon and the single cream, then the mixture of yolks and cheese and mix well.

Cook the spaghetti in abundant boiling salted water, drain and season with the carbonara sauce.

Preparation time: 20 minutes
Cooking time: 20 minutes
Difficulty: easy

Chef's advice
The suggested wine is Cantalupo (red) or Soave D.O.C. (white).