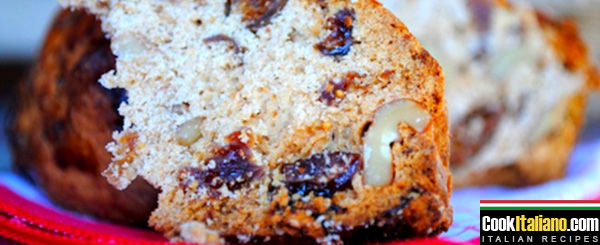 Ingredients for 6 servings:
250 gr white flour
150 gr honey
125 gr sugar
100 gr raisin
100 gr almonds
100 gr pinenuts
100 gr candied orange or citron
100 gr chocolate
1 tsp baking soda
1 tbsp anise seeds
Butter
Ready in:
about 60 minutes
How to prepare the recipe: "Carthusian bolognese":
Take a pan and pour inside honey, sugar, aniseeds and baking soda and 200 ml of hot water. Warm up at low heat stiring and then combine the flour, cooking for 5 minutes.

Chop into small pieces the raisin, almonds, pinuts, candied citron and chocolate and combine them well to the mixture. Pour in a well greased round mold with high edges and cook in the oven at 190 °C for about 30 minutes.
Let it cool and serve.

Preparation time: 20 minutes
Cooking time: 40 minutes
Difficulty: easy

Chef's advice
You can store this cake wrapped with aluminium foil up to two months.
The reccomended wine for this cake is Aleatico.