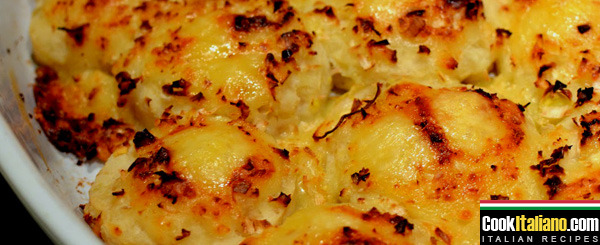 Ingredients for 4 servings:
500 gr potatoes
80 gr Parmesan cheese, finely sliced
30 gr butter
250 ml milk
Salt
Ready in:
about 70 minutes
How to prepare the recipe: "Gratin potatoes":
Boil the potatoes "al dente" (underdone), peel, slice and place in a greased ovenproof dish.
Salt, cover with some slices of Parmesan and repeat until you finish the ingredients.
Pour the melted butter, the milk and bake at 150 °C for 20 minutes or until the milk will be assorbed and the surface gratin.

Preparation time: 50 minutes
Cooking time: 20 minutes
Calories: 280 calories per person
Difficulty: easy
Type of course: Second course, side dish

Chef's advice
I suggest to match these dish with the wine matched with the main course.