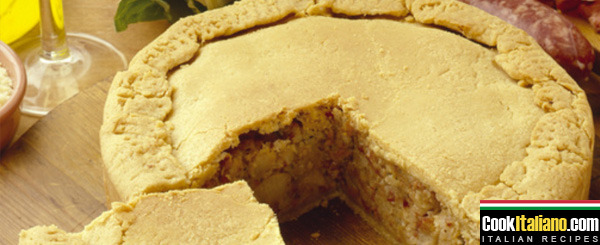 Ingredients for 4 servings:
Dough:
300 gr white flour
125 gr butter
2 eggs
2 tbsp of fennel seeds
Some milk
Some pinches of salt
Filling:
250 gr minced beef meat
20 gr butter
250 gr sausage
30 gr dried mushrooms
100 gr Fontina cheese (1 whole slice)
2 leaves of lauro
1 onion
1 tbsp tomatoe sauce
Dry white wine
Some broth
Extra virgin olive oil
Pepper
Salt
Ready in:
about 90 minutes
How to prepare the recipe: "Meat cake":
Let's start with dough: pour flour onto a clean working surface, put in the middle salt, softened butter cutted in pieces (keep aside a knob of butter), one tablespoon of fennel seeds, one egg and mix also adding some milk or water.
Wrap the dough in greaseproof paper and let it rest in the refrigerator.
In the meantime let's make the filling: soak mushrooms into warm water. In a pan with 2 tbsp of e.v. olive oil, "soffriggere" (fry slightly) the chopped onion, add lauro, and after a while the minced meat and the chopped sausage. "Fate rosolare" (Let them brown), "salate" (salt), "pepate" (pepper) and add a glass of white wine; let it evaporate and add the drained and chopped mushrooms. Add the tomatoe sauce diluted in some hot broth.
Cook for half an hour adding, if necessary, some more broth. Once ready the "ragù" (ragout) must be dense.
Take the dough from the refrigerator, keep aside a piece smaller than the other one; "stendete la pasta" (roll out the dough) in a few millimiters thick rectangular and line a greased and floured mold, equalize the edges. Pour the filling into the lined mold, level, spread here and there the Fontina chopped in squared little pieces. Roll out the smaller piece of dough and cover the filling. Fold the edges onto the surface "pizzicandoli" (pinching them). Brush the surface with the other beaten egg. From cuttings form some decorations and put them on the "pasticcio" (pie) surface.
Eventually spread the remaining fennel seeds.
Cook in the hot oven at 175 °C and bring out when the surface is golden.

Preparation: 30 minutes
Cooking: 60 minutes
Difficulty: easy

Chef's advice
The meat cake can be served hot as main dish or it can be the perfect solution for a pic-nic, served cold.
The recommended wine is Cabernet (red).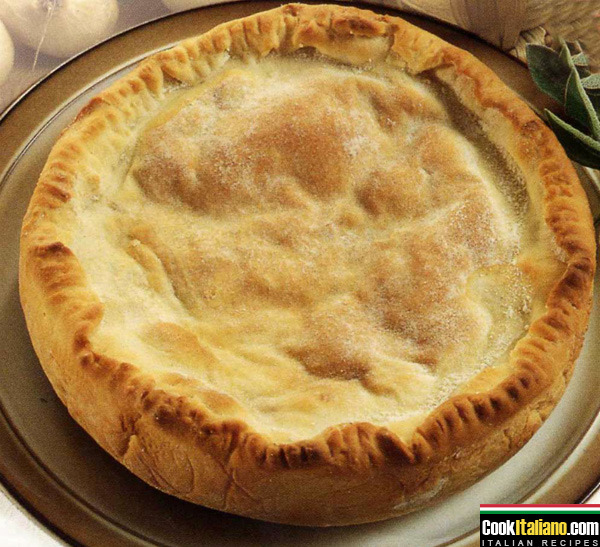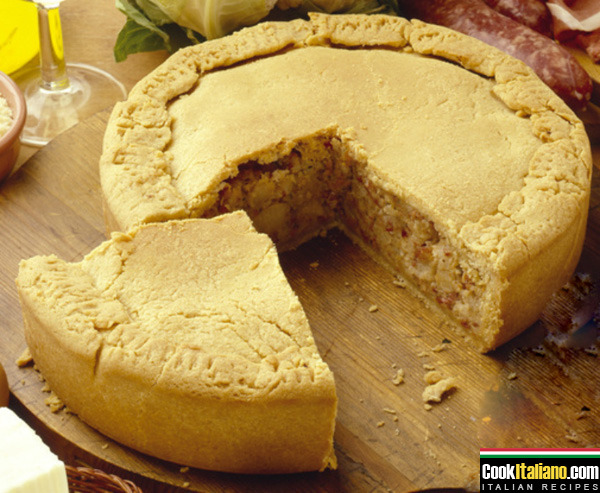 More recipes tagged with...
cake
meat
ragu
easy recipe