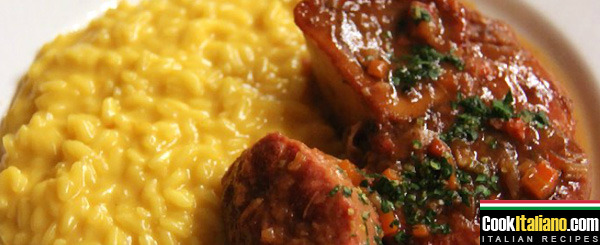 Ingredients for 4 servings:
4 sliced veal shanks, 4 cm thick (800 gr)
1 tbsp of flour
40 gr butter
1 tbsp tomato paste
1 little onion, finely minced
Half lemon grated zest
1 little clove of garlic, minced
1 sprig of rosemary, minced
1 tbsp of parsley, minced
1 glass of broth
Half glass of white wine dry
Salt
Pepper
Ready in:
about 60 minutes
How to prepare the recipe: "Milanese style sliced veal shank":
In a frying pan slightly fry the onion with the butter, place the ossobuchi, lightly floured, let them brown on both sides. Wet with wine, let it evaporate, add the broth, the tomato paste, salt, pepper and cook at moderate heat until the meat will be tender.

10 minutes before removing the meat from the heat, add the lemon zest, the parsley, garlic, rosemary and mix well.

Preparation time: 15 minutes
Cooking time: 45 minutes
Calories: 300 per person
Difficulty: medium

Chef's advice
You can match the ossibuchi with mashed potatoes (see recipe) or a risotto alla milanese (see recipe); in this case it will be a rich main course.
I suggest to match this dish with Pinot Rosso dell'Oltrepò Pavese, Merlot dei Colli Orientali del Friuli, Dolcetto d'Alba.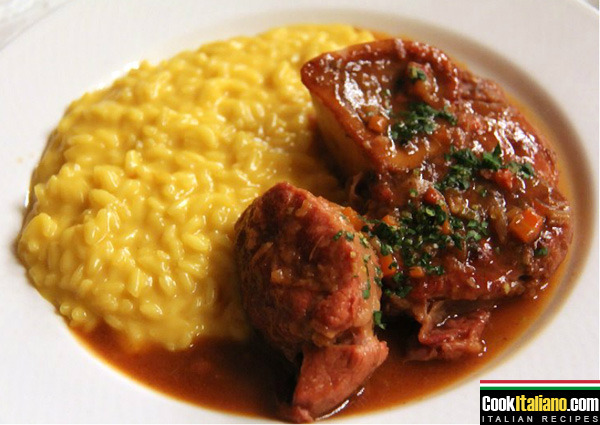 In the picture, Milanese style sliced veal shank