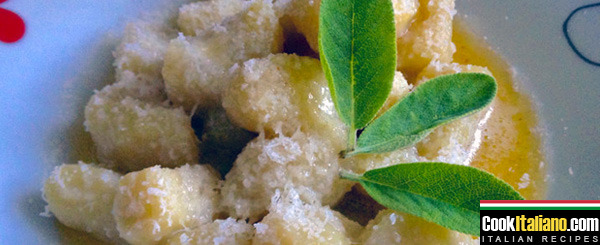 Ingredients for 4 servings:
600 gr potatoes
150 gr flour
40 gr butter
40 gr grated Parmesan cheese
1 clove of garlic
salt
Ready in:
about 90 minutes
How to prepare the recipe: "Piedmontese gnocchi":
Cook the potatoes into abundant boiling water; drain, skin and mash with a potatoe masher.

Put the mashed potatoes onto a work surface, salt and mix with the flour. Mix well with your hands until you get an omogenous mixture. Model some cylinders big like a finger and cut them into pieces, so that you get some little gnocchi as big as beans. Spread onto a floured working surface.

Boil salted water and pour the gnocchi. In the meantime melt butter into a little pan with the garlic. Drain the gnocchi with a slotted spoon when they come to the surface; put them into a serving dish and season with the melted butter and the Parmesan. Serve immediately.

Preparation time: 30 minutes
Cooking time: 60 minutes
Difficulty: easy

Chef's advice
I suggest to serve this dish with Pinot Bianco di Fontanafredda, Pomino Bianco, Sauvignon del Friuli.