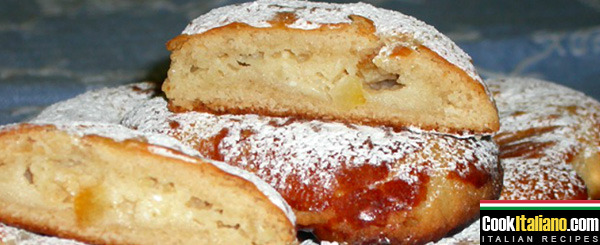 Ingredients for 6 servings:
Dough:
250 gr flour
60 gr butter
2 eggs
20 gr sugar
0.5 dl milk
Salt
Filling:
150 gr ricotta
100 gr candied fruits, chopped
1 yolk
100 gr icing sugar
Ready in:
about 75 minutes
How to prepare the recipe: "Sfogliatelle":
Put the flour on a working surface and mix with the butter, eggs, salt and sugar. Knead well the ingredients and add as much milk as needed in order to get an omogeneous dough.
Roll out the dough with a rolling pin and get a fillo dough 3 mm thick. Cut into rectangles with the same size and place half of them in a baking tin dampened with water.
Take a bowl and put inside the ricotta, 80 gr of icing sugar, the candied fruits and mix well. Spread the mixture on the rectangles placed in the baking tin, cover with the other rectangles, pinch the edges well and brush the surface with the yolk beated with a little of water.
Bake at 150 °C for 30 minutes. A few minutes before the sfogliatelle are done, spinkle them with the icing sugar so that the surface will be slightly caramelized.

Preparation time: 45 minutes
Cooking time: 30 minutes
Calories: 430 per person
Difficulty: hard

Chef's advice
The real, originals, Neapolitan sfogliatelle are those called "ricce" (curly); they are made by hand with a more laborious process, but those made with this recipe are simpler to make and tasty too.