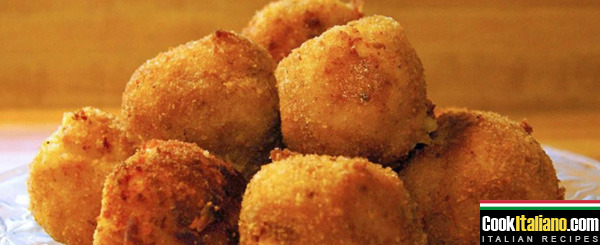 Ingredients for 4 servings:
5 artichokes
50 gr butter
2 big onions
1 spoonful of parsley
˝ lt milk
3 eggs
˝ teaspoon of meat extract
Flour
Breadcrumbs
1 lemon
Some pinches of nutmeg
Pepper
Salt
Ready in:
about 90 minutes
How to prepare the recipe: "Artichokes croquettes":
Clean the artichokes removing the outer hard leaves and the thorny tips, keeping them soaked into water and lemon; parboil the artichokes in salted water and chop into small cubes.
Slice onions and fry slightly with butter, add 50 gr of flour and wet with the boiling milk. Salt, pepper, flavor with nutmeg and cook for half an hour.
Pass the onions sauce through a sieve, add 2 beaten yolks (keep aside the albumens), meat extract diluted in very very little water and thicken the sauce on heat; then add the artichokes, parsley and mix.
Pour the cold mixture onto a floured surface, make the croquettes round shaped, pass them into the remaining beaten egg and lightly salted albumens, then into the breadcrumbs and fry in hot oil.

Preparation: 30 minutes
Cooking: 60 minutes
Difficulty: easy

Chef's advice
The recommended wine is Lugana (white).