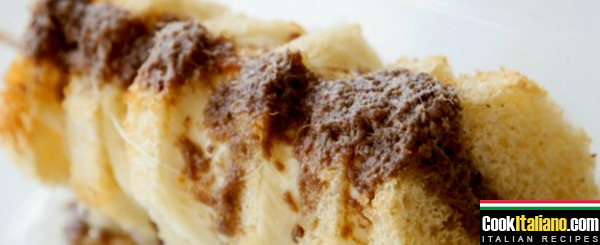 Ingredients for 4 servings:
Crusty bread
200 gr buffalo mozzarella
3 salty anchovies
70 gr butter
Milk
Salt
Pepper
Ready in:
about 30 minutes
How to prepare the recipe: "Skewers with buffalo mozzarella":
Cut bread into slices 1 cm thickness and remove rind; divide slices into crostini (croutons) about 4x4 cm. desalt anchovies and remove fishbones, chop mozzarella into little slices.

Insert on skewers (one per person) bread slices alternating with mozzarella slices; take care that they adhere.

Place skewers on a greased mold, spread with salt and pepper and cook into hot oven until bread is golden.

In the meantime, melt butter in a little pan, add anchovies, mix with a wooden spoon on low heat, until anchovies are melted; add a little milk; when milk will be well mixed sauce is ready.

Place skewers on a hot serving plate and pour souce over skewers; serve soon.

Preparation time: 20 minutes
Cooking time: 10 minutes
Difficulty: easy

Chef's advice
The suggested wine is Fiano di Avellino (white).