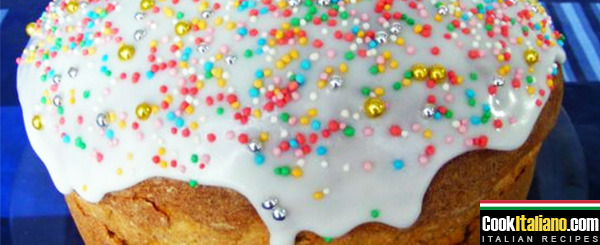 Ingredients for 6/8 servings:
500 gr flour
200 gr sugar
100 gr strutto (lard)
3 eggs
25 gr baking soda
Butter and flour for the mold
Decoration:
1 egg
2 tbsp of powdered sugar
Multicolored confettini
Ready in:
about 60 minutes
How to prepare the recipe: "Easter cake from Abruzzo":
Heat oven at 180 °C.
Sift flour and sugar together inside the mixing machine bowl; add lard, 2 eggs and baking soda diluted into 0.5 dl of warm water. Knead energetically until the dough will be smooth and homogeneous.
Butter and flour a springform pan.
Pour in the dough and level the surface.
Cover with a clean canvas and let rise for 30 minutes in a warm place; then bake in hot oven for 40 minutes.
Bring out and remove from the mold; let it cool on a wire rack.
In the meantime, whip the egg white with the powdered sugar until you get a white soft icing; pour
it over the cake and cover with confettini.

Preparation time: 20 minutes
Cooking time: 40 minutes
Difficulty: easy
Origin: Abruzzo, Italy

Chef's advices
Many "old" recipes expect, like this one, to use "strutto"; if you prefer, you can replace it with 130 gr of butter, softened at room temperature.
To make the cake even more delicious, you can accompany with a warm custard served on the side.
Serve with a sparkling white as Recioto Gambellara.