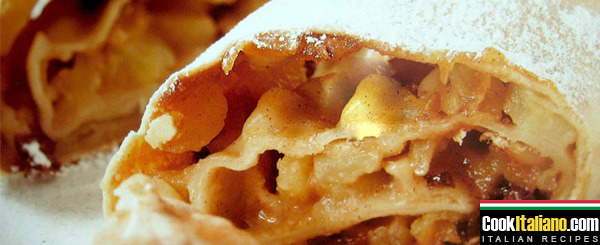 Desserts recipes
Light strudel with dates and apples
Strudel light con datteri e mele
Ingredients for 6 servings:
For the strudel:
1 roll of phyllo dough
3 Golden apples
8 dates
1 tbsp of acacia honey
½ tsp of cinnamon powder
40 gr butter
Calvados wine
For the decoration:
Icing sugar
Ready in:
about 60 minutes
How to prepare the recipe: "Light strudel with dates and apples":
Skin and cut the apples into wedges, remove the core and chop into little cubes of ½ cm. Fry-pan into a nonstick pan without any fat the cubes apple adding, a little later, the honey in order to caramelize them and the cinnamon.
Cut finely the dates, add to the apple and add some Calvados (or another brandy of your choice) and let it evaporate. Reduce and pour into a terrine; let it cool.
Roll out the phyllo dough and divide it into 3 pieces; now divide every piece in 2 pieces and spread with a layer of the fruit mixture.
Roll on itlsef every rectangle doing 2 turns and brush with the melted butter. Pinch the edges so that that the fruit doesn't come out during the baking and put these rolls in a baking dish. Cook at 180 °C for about 18 minutes and bring out once golden. Let them cool and serve spreaded with the icing sugar.

Preparation time: 25 minutes
Cooking time: 30 minutes
Difficulty: medium

Chef's advice
The strudel is a typical dish of the Trentino Alto Adige region, where it is also served salty with a filling of vegetables or cold cuts.
I suggest to serve this sweeties with Gewürztraminer vendemmia tardiva (late harvest).