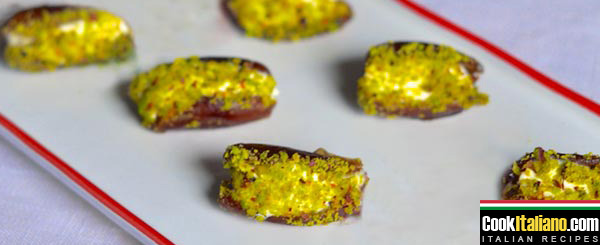 Ingredients for 4 servings:
16 dates
100 gr mascarpone cheese
100 gr fresh ricotta
30 gr sweet pistachios
1 tbsp of icing sugar
2 drops of orange blossom water
Ready in:
about 10 minutes
How to prepare the recipe: "Stuffed dates":
Combine the mascarpone and the ricotta with the icing sugar, stir until you get an homogeneous cream. Pass the cream through a sieve squeezing with a spatula or the back of a spoon in order to eliminate any lumps. Perfume with the orange blossom water.

Engrave the dates on a side, open them gently and remove the core. Fill a small pastry bag with the cream and using a small plain round nozzle, stuff the dates. Then close them slightly in order to recompose the dates.

With a mixer, finely mince the pistachios and spread on the dates. Let them cool in the fridge and serve.

Preparation time: 10 minutes
Cooking time: - minutes
Difficulty: easy

Chef's advice
I suggest to serve this sweet with Marsala Dolce.