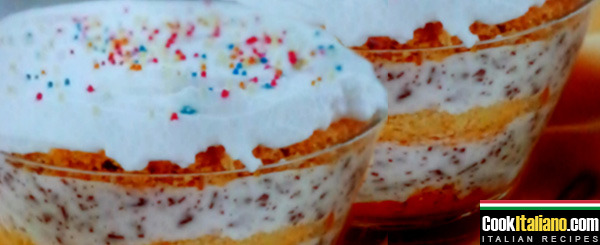 Ingredients for 6 servings:
For the trifle:
600 gr sponge cake
1 little glass of Rhum
300 gr fresh ricotta
150 gr sugar
60 gr extra dark chocolate
1 tsp of vanilla extract
For the decoration:
3 albumens
20 gr icing sugar
Colored spinkles
Ready in:
about 40 minutes
How to prepare the recipe: "Neapolitan trifle":
Cut the sponge cake horizzontally and wet with Rhum. In a bowl mix very well the ricotta with the sugar, the chocolate chopped very finely with a knife and the vanilla extract. Mix well in order to obtain a smooth and homogeneous cream.

Place one slice of sponge cake in a little cup and spread over a layer of ricotta cream, cover with another slice of sponge cake and then ricotta cream again. Repeat the process alternating layers of sponge cake and ricotta cream until you reach the top of the cup; terminate with a layer of sponge cake. Do the same with the other cups until you finish the ingredients.

Whip the egg whites until stiff, add the icing sugar mixing very gently and spread over the cups forming a glaze. Decorate with the colored sprinkles and let them harden in the fridge for one night.

Preparation time: 40 minutes
Cooking time: - minutes
Difficulty: easy

Chef's advice
I suggest to serve this sweet with light Rum.