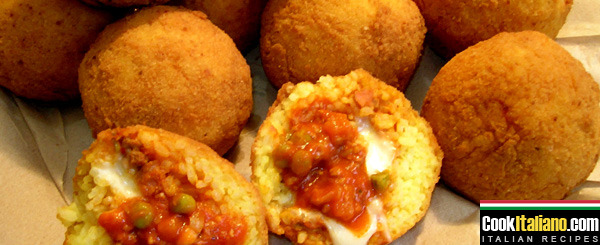 Ingredients for 4-6 servings:
200 gr rice
30 gr grated Parmesan cheese
1 pocket of saffron
2 eggs
1 clove of garlic minced
Half onion minced
150 gr ground lean beef
2 tbsp of tomato paste
15 gr dried mushrooms, soaked into water
2 dl extra virgin olive oil
Half glass of red wine dry
70 gr mozzarella
40 gr breadcrumbs
50 gr boiled peas
30 gr flour
Salt
Pepper
Ready in:
about 225 minutes
How to prepare the recipe: "Sicilian style fried rice balls":
Cook the rice in hot boiling water and drain "al dente" (underdone).

Pour the rice in a bowl and season with the parmesan, saffron and 1 egg.

Slightly fry the garlic and the onion with 3 tbsp of oil. Add the ground meat, slightly fry it and wet with the wine. Add the tomato paste diluted in a glass of water, pepper and boil for 2 hours at least, adding, if needed, other water.

Mince the mushrooms, mix with the meat and keep on cooking for 20 minutes more or until the sauce is dry.

Cut the mozzarella into little cubes and mix with the peas.

Using your hands, make rice balls big as mandarins, half them, form a cavity, stuff one half with the sauce and the other one with the mix of mozzarella and peas. Combine the two half, modelling them well so that you obtain compact and smooth balls, preventing the stuff from leaking out while cooking.

Flour the rice balls, pass them into the beated egg and then into the breadcrumbs.

Fry the rice balls into hot boiling oil and before serving leave them 5 minutes into the hot oven.

Preparation time: 45 minutes
Cooking time: 180 minutes
Calories: 600-400 per person
Difficulty: medium

Chef's advice
I suggest to match this dish with Regaleali Rosso, Grignolino, Lago di Caldaro Rosso.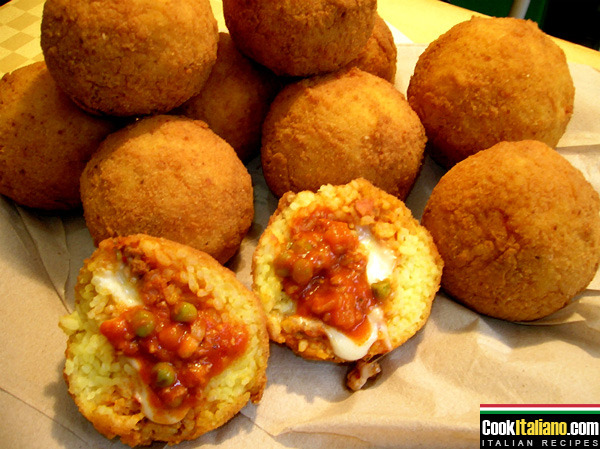 In the picture, Sicilian style fried rice balls