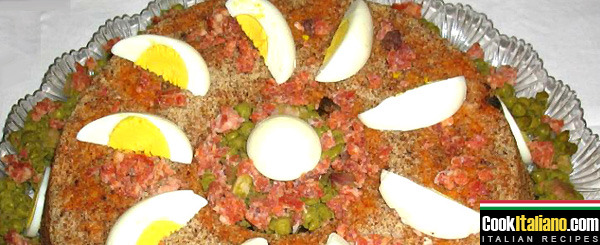 Ingredients for 6-8 servings:
400 gr rice
200 gr ground lean tender beef
2 eggs
1 hard-boiled egg
500 gr peeled tomatoes without seeds
100 gr chicken livers
100 gr lean ham
6 tbsp extra virgin olive oil
40 gr butter
100 gr mozzarella, chopped into little cubes
20 gr dried porcini mushrooms, soaked into water
1 little onion, minced
200 gr boiled peas (also frozen)
30 gr breadcrumbs
1.5 lt broth
80 gr grated Parmesan cheese
Salt
Pepper
Ready in:
about 240 minutes
How to prepare the recipe: "Sartù rice":
Take a bowl and put inside the meat with salt, pepper, 1 yolk, 1 tbsp of Parmesan; mix well and form little balls large as chickppeas.

Put 3 tbsp of oil inside a frying pan and cook the little meat balls at moderate heat.

In another pan, brown the onion with the remaining oil, add the ham, chopped mushrooms, chopped tomatoes, salt, pepper and boil for 15 minutes. Add the little meat balls with the cooking gravy, the chopped livers and keep on cooking for 5 minutes more.

Pour 2/3 of the liquid saucce inside a pan, add the rice, cook stiring with a wooden spoon and add the boiling broth a little by little, always stiring.

Cooke the rice "al dente" (underdone), add 4 tbsp of Parmesan, 1 whole egg and 1 albumen, mix well and let it cool.

Cook the peas with 20 gr of butter. Grease a round mold with the remaining butter and sprinkle with the breadcrumbs. Line the mold with the cold rice, making it adhere to the sides and bottom of the mold, leaving a hole in the middle.

Fill the hole with layers of peas, mozzarella, gravy, Parmesan and the hard-boiled egg sliced. Cover with the remaining rice, level the surface, sprinkle with the breadcrumbs and bake at 160 °C for about 1 hour or until the surface is golden.

Let it rest fo 5 minutes before turning upside down on a serving plate; serve very hot.

Preparation time: 60 minutes
Cooking time: 180 minutes
Calories: 680-510 per person
Difficulty: hard


Chef's advice
The sartù rice is a typical recipe from Neapolitan cuisine; it is a very elaborate recipe of rice, which is then topped off with a very good ingredients. This is the classic version of sartù rice, but there are several versions. This name has French origin: "surtout", which Neapolitans have turned into "sartù".
I suggest to match this dish with Capri Rosso, Cerasuolo d'Abruzzo, San Severo Rosso.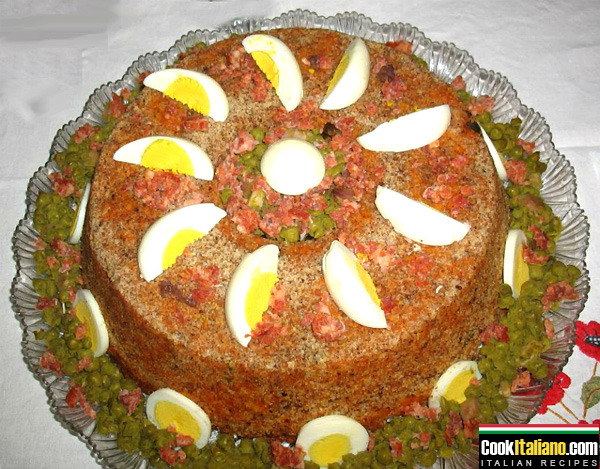 In the picture, Sartù rice
More recipes tagged with...
rice
beef
chicken
mozzarella