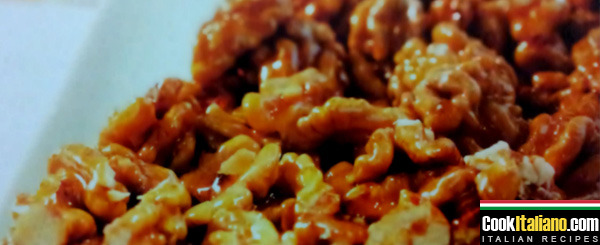 Ingredients for 4 servings:
250 gr walnuts kernels
280 gr sugar
1 tsp lemong juice
Ready in:
about 15 minutes
How to prepare the recipe: "Crispy walnuts":
Take a pot with an high bottom (better if it's made with copper), warm on low heat the sugar and 2 tbsp of water, stiring often in order to caramelize the sugar.

Warm the walnuts in the oven or you can breafly stir-fry them and then rub well with a cloth in order to peel them. Add lemon juice to the caramel and then the walnuts.

Pour the croccante on a baking paper sheet leveling with a spatula lightly oiled. Let it cool and cut into pieces.

Preparation time: 10 minutes
Cooking time: 5 minutes
Difficulty: easy

Chef's advice
You can vary the recipe using other kinds of dry fruit. The croccante can be served with and to decorate fruit or chocolate mousse, or to decorate ice cream.
I suggest to serve this sweet with Moscato Passito di Pantelleria.