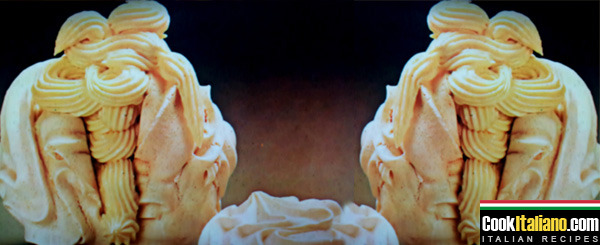 Ingredients for 4 servings:
8 meringue shells fairly large
50 gr icing sugar
300 gr mascarpone cheese
2 yolks
A little Brandy
Ready in:
about 30 minutes
How to prepare the recipe: "Meringues with cream":
First of all letís make the cream to stuff the meringues: beat yolks with sugar in a bowl until they have whitened and well frothy; add, a little at a time, mascarpone and some drops of Brandy; be careful because liquor tends to soften the cream. Put in the refrigerator until you stuff the meringues.

Before enjoy them, dig a little the meringue shells on the plain side; use a little knife and proceed gently to not crumble the meringues.

Put the cream inside a sac-a-poche (pastry bag) with the nozzle Sutomore and fill the digged side of the meringues; then couple them.

Set up meringues into the pirottini (baking cups) and let them rest in the refrigerator to further firm up the cream.

Preparation time: 30 minutes
Difficulty: easy

Chef's advice
In order to obtain a nice effect, before serving the meringues make a drawstring cream at the shells dividing line.