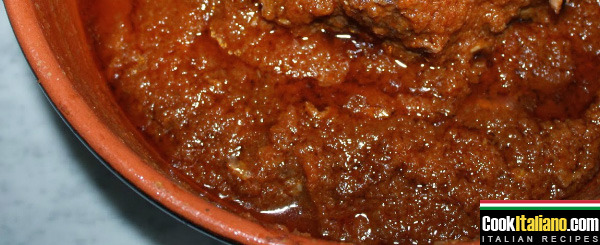 Ingredients for 4 servings:
600 gr beef silverside
100 gr lard
1 onion
1 stick of celery
1 carrot
Garlic
Parsley
Cloves
Tomatoe sauce
Dry white wine
Extra virgin olive oil
Salt
Pepper
Ready in:
about 130 minutes
How to prepare the recipe: "Meat gravy with cloves":
Pass some lard pieces into salt and pepper; tie the meat with kitchen twine and put here and there the lard, two cloves and a sliced clove of garlic.

Chop lard and mince the onion, carrot, a bunch of parsley and celery; melt lard pieces in an earthenware pan with a little oil, then fry slightly the minced vegetables. When cooked, place the meat and cook; salt, pepper and wet with half glass of white wine.

Simmer for several minutes and add two tablespoons of tomatoe sauce diluted in warm water; after 10 minutes wet the meat with two ladles of hot water. Cook for 90 minutes, adding some hot water if necessary.

Preparation time: 30 minutes
Cooking time: 100 minutes
Difficulty: easy

Chef's advice
This gravy should be thick; use it to season pasta.