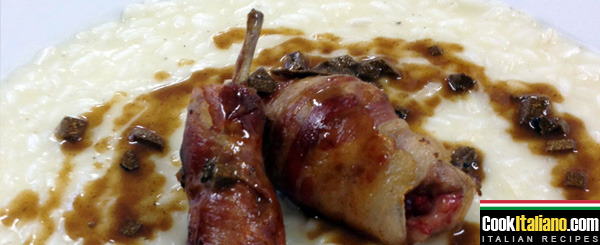 Ingredients for 4 servings:
3 cleaned quails (600 gr)
Risotto al parmigiano (see recipe)
50 gr ham cutted into little slices
A mixed bunch of sage, parsley and basil
1 stick of celery with leaves
30 gr butter
1 tbsp of flour
2 dl broth
1 tbsp of Marsala dry
1 Alba white truffle (optional)
Salt
Pepper
Ready in:
about 85 minutes
How to prepare the recipe: "Risotto with quails":
Wash the quails, dry them, cut the little paws, roll the quails with a slice of ham and tie with colorless wire.
Put the bunch of herbs into a large pan with butter and the quails. Salt, pepper and cook at moderate heat. Wet with Marsala, let it evaporate and add the broth in which you have dissolved the flour. Mix well and cook fro 30 minutes more or unitl the quails are tender.
Remove the wire from the quails, keep them warm and pass the gravy through a sieve.
Take a serving dish, pour the risotto and form a base, level it, put the quails on it, split in half, sprinkle with the gravy and spread on the surface the truffle cutted in lamella.

Preparation time: 35 minutes
Cooking time: 50 minutes
Difficulty: medium

Chef's advice
I suggest to serve this dish with Sizzano, Brunello di Montalcino, Franciacorta Rosso.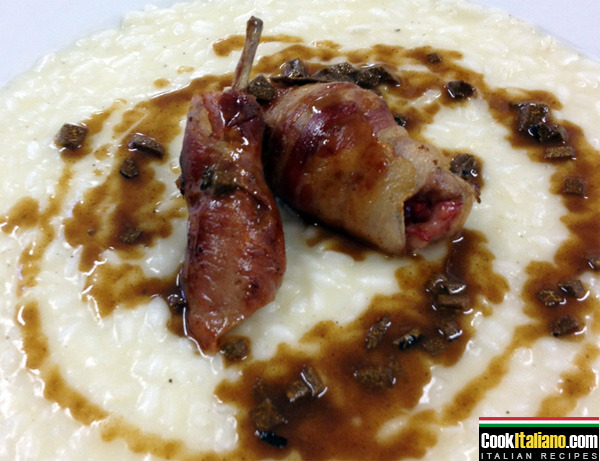 In the picture, Risotto with quails